You may recall that last Thanksgiving I remodeled a bathroom. Well, that was overstating the case. I did the second phase of a certain remodeling. I installed a bunch of plywood parts and a new medicine cabinet, for all my medicines.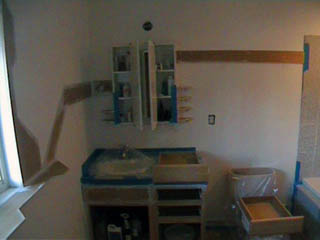 What with one thing, and another, and another, I never quite got around to painting it, until now. Originally, I'd planned on a fairly light color scheme. But I asked my girlfriend, who lives here now (that was one of the anothers) about it, and she suggested a darker motif. Of course! I love dark colored bathrooms! What was I thinking. I was still responding to the conditioning of a previous co-interior-decorator, who... shied away from... unusual things? I don't know.
Thursday, 2004 November 25. Caulked, taped, and painted the trim to be Behr Titanium Semi gloss. I must confess, previous years I've worked on home projects on Thanksgiving, and gone out with one friend or another for the traditional dinner. This year was great! I didn't go out, didn't do Thanksgiving dinner at all.
But for all that, I was oddly disappointed that my housemate preferred to eat a sandwich rather than share my pasta and chicken-turkey-artichoke-garlic sausage meal. Ah well, I eat well no matter the what.
But back to the project.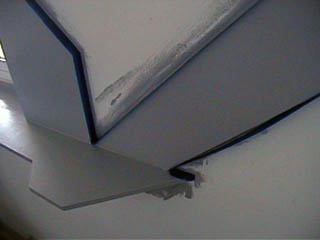 Can you see how much taping this needs?! This whole thing is corners. And the purple... it will take 2 or maybe 3 coats to cover. This work is definitely design motivated, not process motivated.
Time out. Time out to primer the living room floor.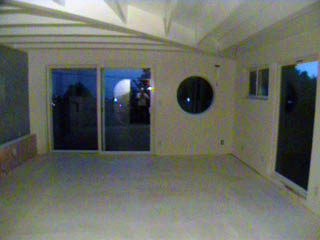 Time out to admire my new kitty, Zero. See the nice house he's relaxing in, this fine Friday morning? That was built by a true God of Project-ing. Thanks John! Zero loves it.
And to work. After touching up the grey, taping, shopping for supplies, finally started painting purple at 2pm.
Finished at 6:30pm. And it will need at least one more coat. (By the way, I highly recommend getting a fluorescent work light, about 100 watts. They have a weirder color than halogens, but the glow is more diffuse, and while it does get hot, it's merely "comfortingly warm" compared to a halogen lamp. And about 1/4th the wattage for comparable usable light.)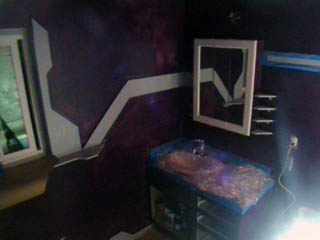 I loved this shade, called "garnet", when I started.
By the time I'm done, I'm going to hate it.
Hmf!
---
And here is my BAD ART about purple paint. Do not
watch
it. It is annoying and has a voiceover and everything.