The following weekend, 2002 April 13, I took the train in to London. In a precision whirlwind day, I arrived at 9am, left about 8pm, and saw three museums and a matinee show.

---

The show, was Shockheaded Peter, a gruesome funny little revue based on the 1840's German children's book, which is a gruesome funny little book.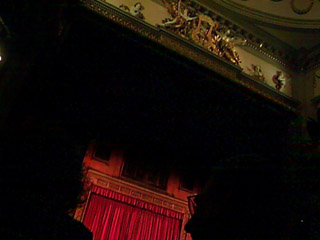 Before that (who wants a linear travelogue anyway) I visited the National Portrait Gallery and the National Gallery. The show and these museums were both at the Leicester Circle tube exit, which is right by Trafalgar Square.
---
Anyway, the National Portrait Gallery was interesting enough... it is the only art museum I've been in where the subjects of the paintings were given more explanation than the artists. Oh, the occasional Van Dyck portrait was well explained artist-wise, of course. But in general, the museum was the country's photo album.
---
The National Gallery was far to big for me to absorb all of. So I only explored the oldest works (a dozen rooms worth) from 1200-1500 or so. I learned that Mary carried ointment. I learned that there are many, many paintings of Jesus on wood. I mean, paintings on wood, of Jesus on wood. And I learned that there's all kinds of different angelic haloes, including golden rings, golden discs, and generalized golden glows. Like Swatch watches, sort of.
---
I could not take pictures in there, of course, but outside were some tour busses trying to make a point.